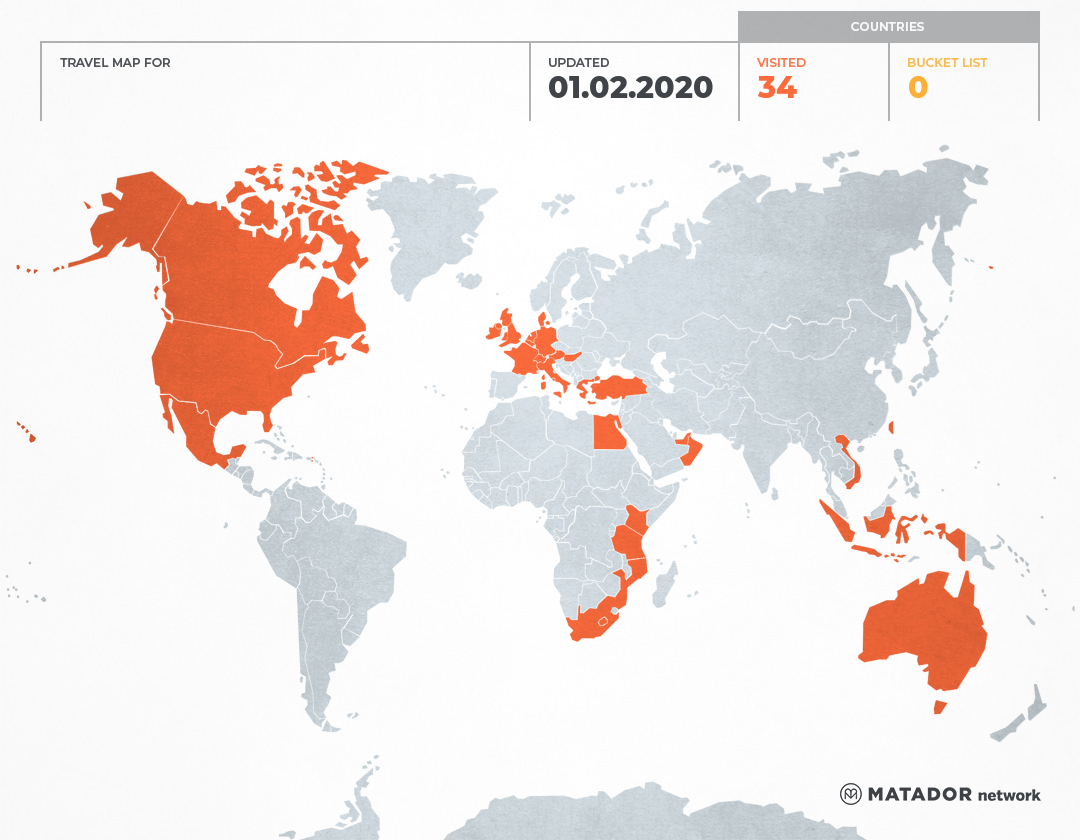 michellearduini has been to: United Arab Emirates, Austria, Australia, Belgium, Canada, Switzerland, Germany, Denmark, Egypt, France, United Kingdom, Greece, Hungary, Indonesia, Ireland, Italy, Kenya, Lesotho, Mexico, Mozambique, Netherlands, Oman, Turkey, Taiwan, Tanzania, United States, Vatican, British Virgin Islands, U.S. Virgin Islands, Vietnam, South Africa.
Get your own travel map from Matador Network.
I will do my best to keep this itinerary updated on a regular basis and will include a brief description of what I plan to do beside each destination where I can.
Note: the entire thing is subject to change at any moment!  (First posted July 27, 2010)
Last updated: August 1, 2017
2017
August 4 – September 2 – Budapest, Hungary to compete in the 2017 FINA World Master Swim Championships, then travel around for another two weeks.
2016
May – US National Parks: Grand Canyon, Zion and Bryce Canyon
2015
August – September, 2015 – Vietnam and Taiwan
2014
September 4 – ??? – Back home to Vancouver for some family time.
June 8 – September 4, 2014 – Back to Greece to work on the island of Naxos for another summer as a divemaster.
May 21 – June 8, 2014 – Vacation in England to London, Cornwall and Devon.
2013
September 20, 2013 – May 21, 2014 – work as a divemaster in Salalah and Mirbat, Oman.
September 17-20, 2013 – travel from Amorgos to Salalah, Oman via Athens to start the next adventure: being a divemaster in the Middle East!
June 29, 2013 – Leave Zakynthos for Amorgos (an island in the Small Cyclades) to continue work as a divemaster.
April 24, 2013 – Depart for Zakynthos, Greece for 6 months to work as a divemaster!
March 2013 – A month spent in the Central Coast of BC, working as a cold water divemaster.
February & April, 2013 – Vancouver for a couple of months to dive, make some money and see my friends, before heading out on my next adventure!
January 26 – February 2, 2013 – San Deigo, USA to visit my friend Laura (who I met in Egypt!), her fiance Dan and their two year old Abby.  Managed to go diving and get to the zoo!
January 9 – January 26, 2013 – Orlando, USA to visit one of my best friends, John, and get in a few workouts as he finishes up his personal training course!
2012
October 15, 2012 – January 9, 2013 – Complete my PADI Divemaster, DSD Leader and EFRI certifications and do an amazing 5 week internship with Sail Caribbean Divers in the British Virgin Islands
October 12, 2012 – Depart Vancouver for Tortola, via Seattle, New York, Boston and St Thomas.
March 23 – October 11 – VANCOUVER!  Six and a half months at home to catch up, rest, eat, do laundry and visit with friends and family.
March 19 – March 23, 2012 – San Francisco to meet up with one of my best friends Sara, and her husband, James.  Took a quick look around the city and enjoyed the sights and tastes!
February 19 – March 18, 2012 – Bali and Gili Trawangan, Indonesia.  Absolutely beautiful, stunning island full of new found friends and culture.
February 9 – 19, 2012 – Back to WA, a quick trip down to Busselton for some amazing diving on the jetty and the HMAS Swann, and then a great week in Perth visiting with some fantastic friends.
February 3 – 9, 2012 – Hobart, Port Arthur, Bicheno, Freycinet National Park, the East Coast, and Launceston on the beautiful island of Tasmania!
2011
November 23, 2011 – February 3, 2012 – Cairns, Queensland: working on a liveaboard diveboat TAKA as a Purser and enjoying the tropics!
October 27 – November 23, 2011 – South Australia, Victoria, Queensland and New South Wales: Four weeks with Mom and Dad!
September 1 – October 25 – Perth, Western Australia
August 4 – 20, 2011 – The W.A.-N.T Tour!  Adelaide-Perth-Darwin-Alice Springs-Uluru/Kata Tjuta/Kings Canyon-Alice Springs-Adelaide-Naracoorte
May 8 – August 28 – Naracoorte, South Australia: Living with my boyfriend (at the time) Henry and his family, working at Maddies Cafe.
February 20 – May 8, 2011 –  Robe, South Australia: Living and working with my friend Anne.
February 19, 2011 – Depart Johannesburg, and South Africa, for the last time.
January 23 – February 10, 2011 – Dar Es Salaam, Zanzibar, Serengeti Desert, Ngorongo Crater, Ouldavi Gorge, Moshi, Mount Kilimanjaro, Nairobi: Starting in Zanzibar, I'll dive for a few days before heading overland through the Serengeti to climb Africa's tallest mountain, Kilimanjaro.
 January 13-20, 2011 – Tofo, Inhambane, Mozambique: A week on my own in a new country to scuba dive to my heart's content in warm waters.
 January 8-11, 2011 – Sabie, South Africa: Three nights in an adventurers paradise, white-water tubing, kloofing and wet abseiling here I come!
January 4-6, 2011 – Cape Town to Jo-burg via the Karoo: ROAD TRIP!  Can't wait to see what this part of the interior has to offer while I finally return the car to my aunt and uncle!
2010
December 29, 2010 – January 4, 2011 – Table View, Blougberg, Cape Town, South Africa: Back again to the Cape to spend New Years with some friends before finally hitting the road again.
December 20-29, 2010 – Johannesburg: Back inland to spend some time relaxing with family over the holidays.
November 12-December 20, 2010 – West Beach/Table View, Blouberg, Cape Town, South Africa: Five and a half weeks in the suburb of a beautiful city.  A new obsession begun and some good friends made.
November 9-11, 2010 – Stellenbosch and winelands, South Africa: a few days among the vineyards of South Africa, tasting the best of what the country has to offer.
November 4-8, 2010 – Garden Route and South Cape, South Africa: One of the most beautiful drives in SA we're told.  We will visit Cape Agulhas and the Cape of Good Hope on our way to the Western Cape.
October 30-November 4, 2010 – Bellito and Kwa-Zulu Natal coastline, South Africa: basing ourselves out of my Aunt's house in Bellito, Lisa and I hope to learn to scuba dive in the Indian Ocean.
October 26-30, 2010 – Drakensburg Escarpment, South Africa: Lisa and I can't wait to get to this beautiful area of SA, and are going to stay a bit longer than we intended and hopefully get to Lesotho for the day!
October 20-25, 2010 – Kruger Park, South Africa: sure-to-be EPIC safari in one of the world's most famous game parks.
October 17-19, 2010 – Johannesburg, South Africa: a couple of days to tour around the area, including Pretoria and Soweto, and spending some time with my Mom's family.
October 17, 2010 – Arrive Johannesburg, South Africa
October 16, 2010 – Depart London, England
October 14-15, 2010 – London, England: sleeping, eating, drinking.  (I've been to London before and done most of the touristy stuff.  This time Lisa and I will be hanging out in some 'local' haunts trying to get more of the flavour of the city)
October 13, 2010 – Arrive London, England
October 12, 2010 – Depart Vancouver, Canada